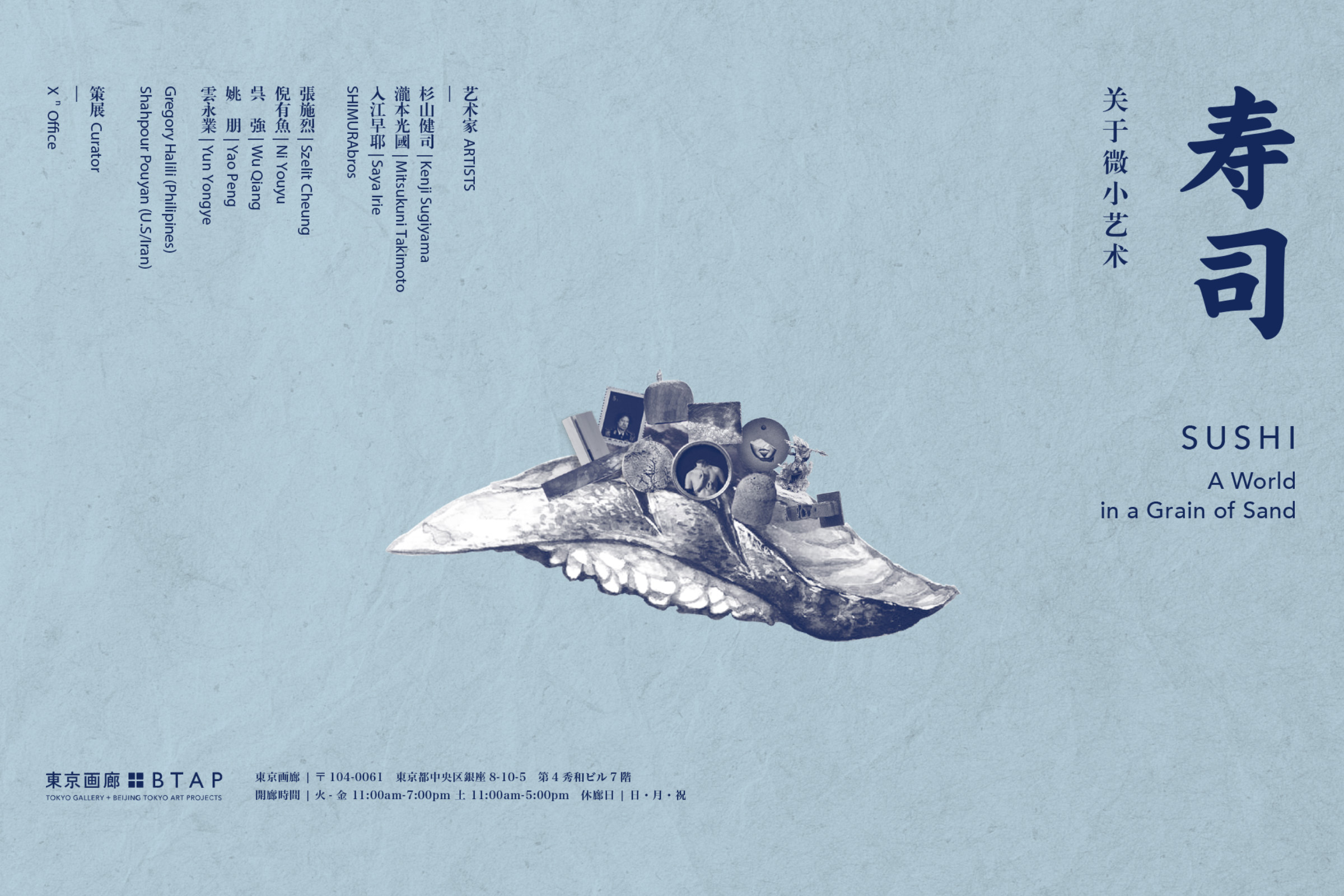 Tokyo
Kenji Sugiyama, Mitsukuni Takimoto, Saya Irie, SHIMURAbros, Szelit Cheung, Ni Youyu, Wu Qiang, Yao Peng, Yun Yongye, Gregory Halili, Shahpour Pouyan
SUSHI – A World in a Grain of Sand
2021/7/24–9/4
On July the 24th, Tokyo Gallery+BTAP (Tokyo) will host a group exhibition, "Sushi – A World in a Grain of Sand" featuring works of eleven artists from Japan, China, Hong Kong, the Philippines, and Iran. The exhibition is curated by Xn Office, a young Chinese curator team founded by art historian Penny Dan Xu and artist Ni Youyu. Displaying artworks of exceptionally small size, this exhibition celebrates the exquisite, and calls our attention to the power of the minute.

The title of the exhibition references the documentary Jiro Dreams of Sushi (2012). Jiro Ono, the main character of the film, is more than a master chef, he is an artist chasing perfection in something very small. In the same fashion, the exhibition centers on a set of keywords, such as 'minuteness', 'delicacy', 'ordinariness', and 'craftsmanship', displaying works in different media, all of which invite the viewer to "see the large in the small".

The smallest work in the exhibition is Film without Film by the Japanese artists SHIMURAbros. SHIMURAbros picked five film scenes (each on average 8 seconds) from the "Creative Geography" montages of Russian filmmaker Lev Kuleshov and used 3D printing technology to produce a series of tiny sculptures that fit within a 35mm film frame. Each sculpture consists of 192 layers, every layer derived from a single frame. As the artists say, it is "a sculpture of time".

Similar in size are Ni Youyu's "coin paintings" (Galaxy, 2008 -). Since 2008, Ni Youyu has been collecting coins from different countries. He flattens each coin, polishes off the relief images, and paints on the small surface whose diameter is no more than a few centimeters using the tip of an ink brush. In such limited space, Ni Youyu nevertheless pursues the 'breath' and brushwork which are essential for traditional Chinese painting. He has spent many years mastering the skill of miniature painting. Through this process, the exchange value of a coin as currency is erased and replaced by the value of art.

Filipino artist Gregory Halili's work shares something in common with that of Ni Youyu. Halili, who lived in the US for many years, uses Capiz shells, a type of bivalve found in the Philippines seas, as the main material for his work. Drawn to its delicate nature and surface, he spends a lot of time polishing the shell to make it an ideal surface for painting. The theme of each painting is decided based on the shape of the shell. Some of his paintings feature ocean and sky, others deal with eyes and coral. These vast and ever-changing things are carefully rendered on the palm-sized shells. A currency widely used in many ancient civilizations, the shells now become works of art reentering the market in a new guise after thousands of years.

Chinese ink painter Wu Qiang depicts deep valleys and distant mountains on pieces of paper with dimensions similar to a ruler. In this way he continues the landscape art tradition of the Song-Yuan period, in which scroll paintings presented vast landscapes in a small portable form. Saya Irie uses eraser residue to create a small statue of a Buddhist heavenly guardian deity. In ancient times, people pray to the heavenly guardian for the end of disease. This work is a befitting subject for this current time of pandemic. Mitsukuni Takimoto is both a contemporary artist and a restorer of ancient statues. The patterns he carves in wood capture movement frozen in time. Yun Yongye, a young Chinese artist, uses Italian miniature frames and a classical wood panel painting technique to create paintings with intimate and provocative images that irresistibly lures its viewers.

'Presence' by Hong Kong artist Szelit Cheung seems at first sight to be a plain wooden box. But looking closer, the viewer will find inside a painting which itself depicts a still deeper space. Thanks to the material the artist uses, this painting changes depending on the light and angle from which it is viewed. Japanese artist Kenji Sugiyama has built in a paper box used for pasta packaging an exquisite museum with a transparent ceiling and parquet flooring. In this mini museum, there's only the artist's own work and a single viewer's eye. It is called "Institute of Intimate Museums".

The last two artists in the exhibition shift their focus from art traditions to political issues of today. Yao Peng has noticed how postage stamps can be a form of state propaganda. He has painted a series of portraits of political leaders in the dimensions and form of postage stamps, fabricating an alternative 'national history' for nations such as China, Iraq, and Soviet Russia. Known for his ceramic sculptures, Iranian American artist Shahpour Pouyan's dome-shaped sculptures look directly at the threats that hangs over human civilization – nuclear weapons. He has created six sculptures in clay whose size represents the energy released at detonation by six different atomic bombs. The biggest one symbolizes the Russian "Tsar Bomba" whereas the second smallest one symbolizes the "Little Boy" dropped on Hiroshima. In succinct visual language, the artist shows the terrifying threat represented by the present-day nuclear arsenal.

Everything in the world is relative. Whether a grain of sand or the whole world, all the objects we contemplate share certain features which connect them, and through which they can be compared. Standing in front of these miniature works, seeing infinitely large subjects condensed in extremely confined space, we are poised between the vast and the infinitesimal. From this unique viewpoint, we may gain a new perspective on our own lives.

-------

CURATORIAL TEAM

Xn Office was founded by art history researcher Penny Dan Xu, and artist NI Youyu in 2016. Up till 2021, Xn Office has curated five exhibitions in Shanghai, Hong Kong, Paris, and published two research-based bilingual exhibition publications. In mathematical language, X means variable, can be any number, letter or equation. N refers to all natural numbers. They both link to the notion of "Infinitive variation". N powers of X suggests that the two curators develop ideas from two different perspectives and methods; they collaborate to discover a world of endless possibilities.

Penny Dan Xu is an art history researcher based in London and Brussels. She is finishing her PhD thesis on 'Artistic Imitation during Ming-Qing Period'. Her research received wide attention, and she has presented her study at international conferences hosted by Oxford University, University of Munich and so on. She is also a curator with ten-year experiences on international exhibition projects, as well as an art writer and translator. Her art critism writings and exclusive interviews with several prominent Chinese and European artists were published on art journals and online platforms. As a translator, her solo-translated book 'Peggy Guggenheim: A Confession of an art addict' was published in 2014; this book was listed in the reading list for art history undergraduate students.

Ni Youyu is an artist based in Shanghai and Berlin. He was awarded the CCAA 2014 Best Young Artist. From 2005, he worked as exhibition curator and art critic, and became artist in 2007.
His solo exhibition was presented in Shanghai Museum (2012), Taipei MOCA (2015), Yuz Museum (2019), Orange County Museum of Art, Konstanz Kunstverein(2017), Contemporary Fine Arts(2016,2018), Galerie Nathalie Obadia (2017,2022)and Galerie Perrotin (2019). His artworks are listed in the prestige collections throughout the world, including Brooklyn Museum, National Gallery Singpore,M+ Museum,Hong Kong Museum of Art, Rockbund Art Museum, Yuz Museum, White Rabbit Foundation, Korea Arario Museum, Me Collection, Sigg Collection, DSL Collection and Ghisla Art Foundation, etc.


* To combat the spread of Covid-19, Tokyo Gallery + BTAP currently implements reduced opening hours and requires visitors to sign up for their choice of viewing session in advance online. Bookings can be made here.