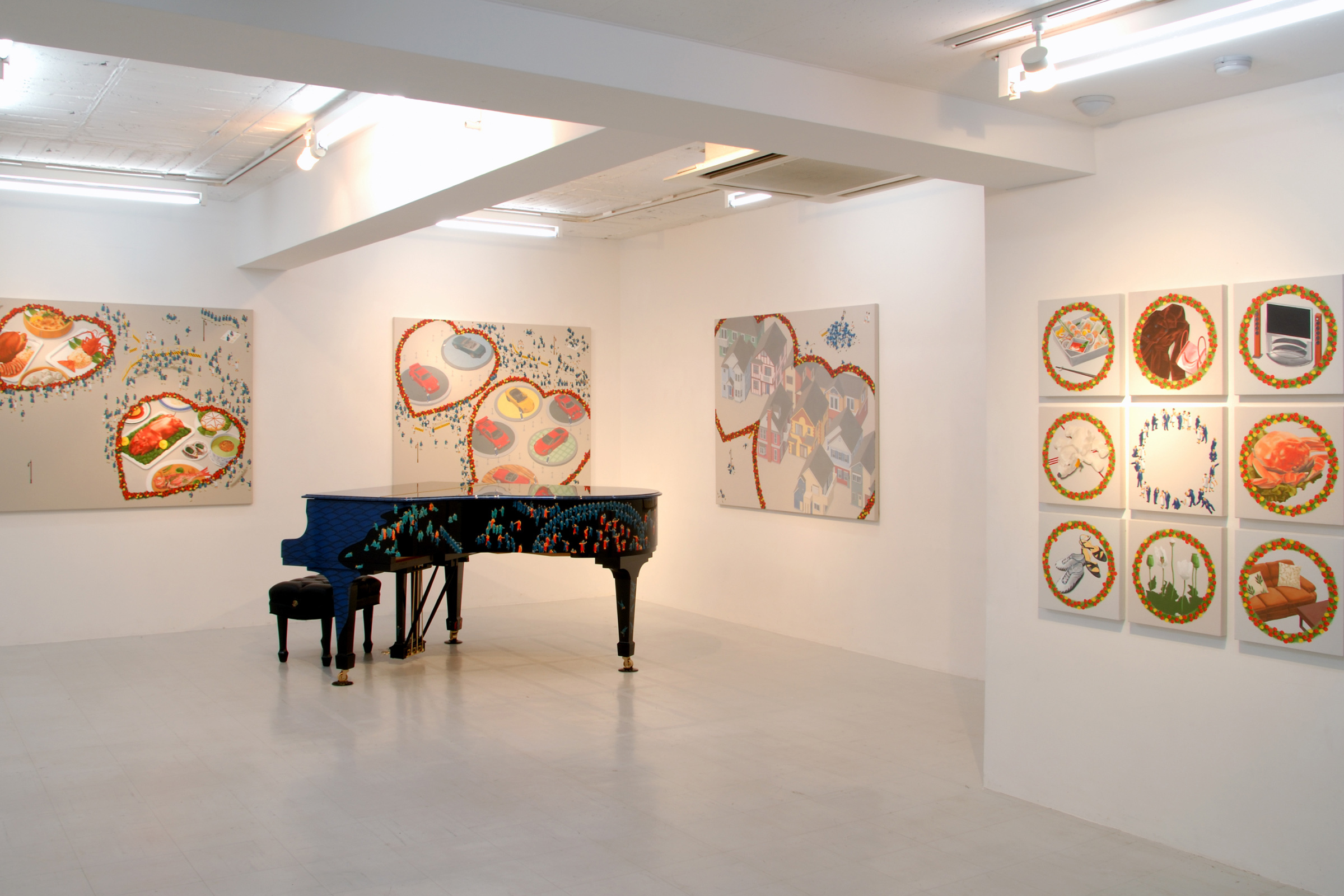 Tokyo
Chiharu Nishizawa
For beautiful human life
2007/7/18–9/1
Chiharu Nishizawa Solo Exhibition 'For beautiful human life'
2007/7/18(wed) - 9/1(sat)

Chiharu Nishizawa Solo Exhibition 'For beautiful human life'
July 18 (Wed) – September 1 (Sat) 2007

Opening Reception: 2007.7.18 (Wed)
Opening Event: Jazz Piano Performance
18:00-20:00 at Tokyo Gallery

Tokyo Gallery is pleased to hold "For Beautiful Human Life", a solo exhibition of Chiharu Nishizawa. Two years since his last solo show in Japan, this exhibition will present ten of his new works.

Following his graduation with a major in Painting from the Fine Arts Department of Tokyo Zokei University, Nishizawa continued to work in the medium of printing, but moved to painting as he felt it was a more efficient medium for giving form to his thoughts. His technique involves drawing out his compositions on tracing paper, transferring the design onto the canvas with masking tape, and painting in his motifs in the cut-out areas. As a result, his motifs have a clear edge that makes them appear to float over unreal, flat backgrounds.

Born in 1970, Nishizawa is part of generation that came after the baby-boomers, who built Japan during its post-war period of high-speed growth – a generation that has adopted the baby-boomers' desires and values. In his Dreamy Farm series, Nishizawa uses the unmistakable symbols of wealth – gourmet food, luxury cars and mansions – to convey his feelings about our increasingly bloated desires. Do these endless material goals really fulfill us? Aware that he is also implicated in this question, he responds to it through his work.

In his series titled "Those who inch over the surface of the earth need no wings", he depicts ordinary people living out seemingly boring lives, juxtaposed with the grey shadows of birds, which represent liberation from that everyday life of boredom. Nishizawa thinks that while people inevitably encounter negative elements as they live their lives, the popular notion of 'one's true self' has contributed to their tendency to turn a blind eye to reality. He feels that we delude ourselves with our search for quick-fix solutions to problems, and that we should keep our feet on the ground and face up to the negative elements within the everyday.

Believing that people are choking themselves in their quest for material wealth and its false promise of a 'beautiful human life', Nishizawa fills his work with black humour and irony. However, at the same time, the masses of men and women freely milling around in his paintings may at first glance seem to be a uniform mass, but are in fact individuals, and through them, Nishizawa wishes to express his sense of hope for the fundamental uniqueness of each and every human being.

Following a collaboration with Steinway Japan and exhibitions in China, Korea and Germany, we hope that you will take the opportunity to see Chiharu Nishizawa's new work on display at Tokyo Gallery.