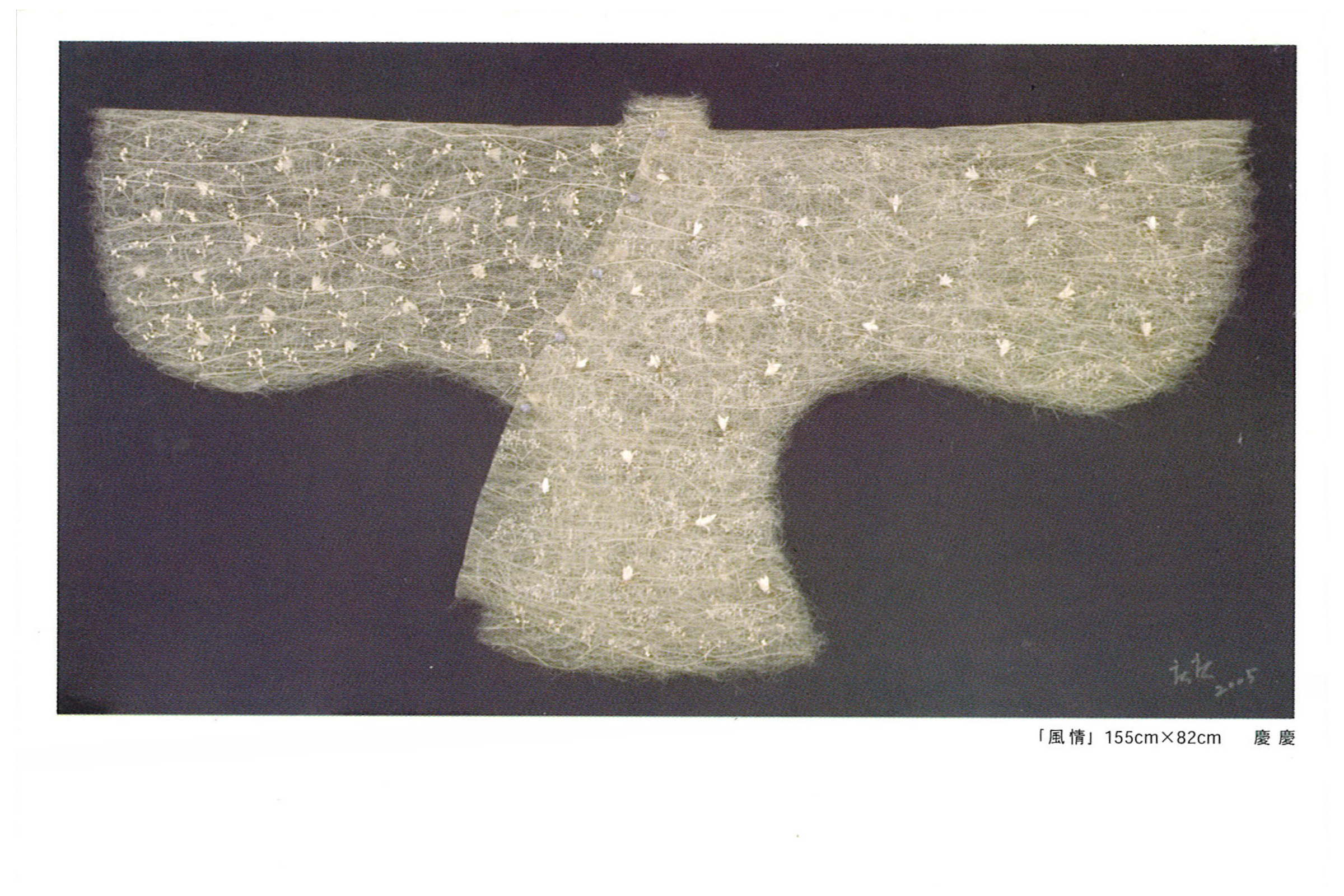 Tokyo
Qing Qing
2005/10/21–11/19
Qing Qing Solo Exhibition
2005/10/21(fri) - 11/19(sat)

Qing Qing Solo Exhibition
Friday 21st October - Saturday 19th November 2005

Opening Party: 21st October 2005 17:00 - 21:00
*This opening party will form part of the "Ginza Evening Party" series of events.

In response to critical acclaim received at the Tokyo Art Fair, this autumn Tokyo Gallery brings you new works by Qing Qing.

Qing Qing is a female Chinese artist who holds a studio in China's Dashanzi 798 Area. Her fiberwork pieces are all made from natural materials. The beauty of these works has been highly praised all over the world, and now the time is ripe for us to bring you her first solo exhibition in Japan.

She continues to develop new materials, and while the focus is on new expression through photography and media art, with this exhibition she aims to put the focus on the use of "slow" natural materials within the art world.

What appears at first glance to be Japanese kimono, the garments in this exhibition are in fact reproductions in the shape of traditional Chinese garments. Qing Qing's works offer you the fascination of taking another look at old, forgotten things and witnessing the birth of something new.

Furthermore, the opening party for this exhibition will form part of a series of events related to the "Ginza Evening Party" (*1). This year, twenty galleries are planning to treat you to champagne and offer everyone in Ginza extravagant entertainment. Please come and enjoy the beautiful artworks late into the night.

*1: An event forming part of "Promenade Ginza 2005," which opens every year in autumn with the aim of improving visitor numbers in all parts of Ginza by the Ginza Association Events Committee. The first, held last year, was well received and this year the number of participating galleries has increased, opening their doors to art lovers for one autumn night.

■Open: 17:00 - 21:00, Friday 21st October 2005.
Galleries due to participate: Bancho Gallery, Ceramic Art Ginza, Eizendo Gallery, Fujiki Gallery, Gallery Gyokuei, Gallery Hirota, Gallery Nii, Gallery Tamenaga, Ginza Yanagi Gallery, Hanada Art, Iida Gallery, Jansem Gallery, Kobayashi Gallery, Nichido Gallery, Sagamiya Art, Shunsei, Seizan Gallery, Shingendo Gallery, Taimei Gallery, Tokyo Gallery, Uchiyama Art. (Alphabetical order. Altogether 21 galleries participating as of 28th July).

[ Qing Qing ]

Born in Beijing in 1958. After studying English and German Literature in Beijing and Venice, she started developing installation works from 1994 onwards. Her beautiful fibrework pieces are critically acclaimed the world over.

Selected Exhibitions

2004
Nature - Substance - Substance - Nature - Thing in Boxes, Artist's Studio.
2000-2004
Bejing Dashanzi Art Festival.
2003
Asian Women and Her Stories, Seoul.
Qing Qing Installation, Today Gallery.
2002
Qing Qing is Back, New Work Exhibition.
Contemporary Chinese Art Exhibition, Fukuoka Art Museum.
2001
Qing Qing New Works Exhibition, Chinese Contemporary, London.
2000
Corruptionists Exhibition, Public Space, Beijing.
Womanifesto II, Second International Woman's Art Exchange, Bankok.
1999
Venice Textile Festival, Austria.
1997
Intuition, Experience, Concept, Central Academy of Fine Arts Gallery, Beijing.